Car mat
Customised Car Mat
We're the tailor of car mats. We measure, cut and fit your car mat according to your car shape and size. We're constantly looking for ways to make our car mats better, safer, and more stylish.
Car mats is not just to sit there and look good, here are five things your car mats do for you:
Keep you safe.
A high-quality custom mat keeps you safe by staying in its place and never slipping. Just to be sure, our mats have three ways of keeping you safe.

floor mat
Industry research has shown that 94 % of all dirt that enters a building is brought in on the soles of shoes or by wheeled traffic. This dirt creates a health and safety issue due to the increased risks of slips, trips or falls. By specifying the correct type of entrance matting dirt and moisture transfer into a building is restricted and this risk can be significantly reduced.
About Us
Passorex manufacture & supply quality mats to the world
PASSOREX INTERNATIONAL PTE LTD
We are a mats manufacturing company that specialised in manufacturing and supplying quality floor mats and car mats to the world. Using only the safest and finest materials. Supplying odourless mats we feel safe using.
Passorex International Pte Ltd was founded in 2015 by a group of entrepreneurs who wanted to provide the floor mat industry with the real thing.
Helmed by Industry Professionals with at least 20 years of experience, Passorex International Pte Ltd boasts a dynamic Management Team, a highly skilled and knowledgeable Operational Team and an enviable sales network that spans the whole of Europe and Asia.
Drawing upon our expertise and experience to engineer floor mat solutions that present the Best Value to our Customers, Passorex International Pte Ltd aims is to be everyone's preferred Partner and Floor Mat Supplier.
Testimonials
Love it. Just nice.
PVC Coil Floor Mat with 4-sided rubber edge
Mhzz
Speedy and superb service from seller! Able to customize mats to any length and width which we are very thankful for. Have patronized many times and your products never fail us.
PVC Coil Floor Mat
Sheilaeng
These guys know what they doing. Very responsive, very professional in advising on the measurements, and very fast delivery. Similar products are easy to find, but exceptional service like this is not easily replaceable. If you need a coil mat, go for them. Don't waste time with others.
DIY PVC Coil Floor Mat with 1-sided Rubber Edge
Keptian
The mat was nicely shrink wrapped. It came rolled and not folded which was great. Don't have crease lines. The mat sits nicely on the floor. It was instructed to remove the thin film before using but I decided to keep that on for the time being since it was not slippery at all in the floor.
Terra Mat
Chewkeatleong
Fast delivery. 2nd time purchase. Chair mat is great and serve my need. Highly recommended. Thanks!
Terra Mat
jjvector
Delivery is v fast. Looks good. Secret lab chair able to roll in smoothly. Protect my flooring frm dents in... coz vinyl flooring is soft...thanks seller.
Terra Mat
Joe
Mat is colourful and welcoming. Yet it is thin enough to be placed at entrance door without interfering with opening and closing of door. This is my second purchase. Good quality and fast delivery.
Comfort Nylon Non-slip Welcome Floor Mat
Lee B.
Awesome quality! They even offered to drop by and trim the floor mat so it's perfectly fitted to the door. Well done PASSOREX team!
Condo Door Mat
Sam S.
Received in good condition. Staff was professional when they came to do the trimming. My door entrance looks so much nicer. Recommended.
Condo Door Mat
Vicky L
Extremely Fast delivery despite the peak period, easy to diy and install! Highly recommended…quality is good, mat is thick and color is nice as well.
DIY PVC Coil Floor Mat with 1-sided Rubber Edge
Sherlene T.
good quality and fast delivery!👍
Semicircle PVC Coil Mat
Vincent T
Seller was very responsive and helpful. The service was immaculate as the response to queries and follow ups were very prompt. Highly recommended. Product is very practical and of high quality. Will get one for every house that I have.
BTO Door Mat
Don T.
Item shipped fast and packaging is well protected within it. Thanks for the fast shipping and will definitely recommend this seller! Measurements and cutting are on point and the seller is helpful in your request.
BTO Door Mat
James T.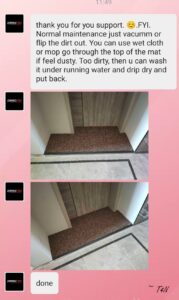 Recommended because its good product, easy maintenance and look tidy, and the best part is after sales service, the seller are easy to communicate and also flexible, attached the result after on site trimming 👍
Condo Door Mat
T4N
Customer service is responsive, helpful and provide good recommendation. Quality of the mat is great it looks great. Delivery is also prompt. Highly recommended.
PVC Coil Floor Mat with 1-sided Rubber Edge
Jean L
This is superb! Seller is patient to share on how to do the measurements for them to customise the mat and it fits nicely! Seller is also not pushy and will advice accordingly when I ask to purchase another mat for the corridor. Kudos!
Comfort Nylon Floor Mat
Tung C.
Seller provides clear instruction on how to take measurements. And delivered within 2 days. Love how it fits at my door entrance. Very good quality!
BTO Door Mat
Sabrina N
Very satisfied with the finishing product. The size is accurate too. Simply love it !
BTO Door Mat
PVC Coil Floor Mat with 4-sided Rubber Edge
Lawrence L
Thanks and so nice service like a family. I really feel good and comfort while in the car. Thanks a lot for the wonderful suggestion and design of floor mat. Thank you.
Mr Das
Toyota Altis
Previously using 3M nomad, by chance I saw Passorex (a little apprehensive at first sight) and gave it a try. Well, have to say it's pretty good and value for money given it's thickness and flexibility. May give 3M a run for money.
Kenneth Kang
Mercedes Benz
Really dislike the free car mats given. Now Passorex customised blue car mats really gave my car a more luxury feel especially with those matching colours. Thick and comfortable mats. Highly recommended.
Ms. Carol Mercedes
Benz B180
Thank you Passorex! My old car mat has been with me for the last 5 years and i can't imagine how much bacteria I am breathing in, I can only say your mat is really of very very good quality and despite your price being so competitive, your value added service and knowledge of your product wins me over.
Feeback from Peugeot Owner
Peugeot 508 SW
Thanks for the customised car mats. I like it very much. Staffs are good. Ps: if you can pass some of the photos.. I will pass around my friends.. All the best for the new year!
From BMW
Owner BMW 740 Li
After changing to Passorex's car mats, it gave my car a new feel. Most importantly, no more plastic smell from my previous made in China mats!
Mr. Tan
Honda Jazz
Very thick and firm mats. Without any weird odour too. Will recommend to friends.
Mr. Chong
Lexus GS300
I just wanna say the mats are high quality for the price. Most importantly, it is odourless. No more weird plastic mats smell inside my car after using Passorex's mats.
Alex Toh
Buyer
I just wanna say the mats are high quality for the price. Most importantly, it is odourless. No more weird plastic mats smell inside my car after using Passorex's mats.
Alex Toh
Buyer
Contact Us
Passorex International Pte Ltd
22 Sin Ming Lane #03-76 Midview City Singapore 573969
+65 6684 7728
info@passorex.com